Description
Harrison Architectural Flagpoles are the perfect adornment to any business, hotel or public building. We are widely recognised as the UK's leading authority in the design and supply of flagpoles. With almost 50 years of manufacturing and installation experience we're well equipped to meet your requirements.
Harrison Flagpoles are proud installers of aluminium flagpoles around the world, including government buildings in Hong Kong and London, to banks and major office buildings in the UAE and Oman.
The pole
Our Superform aluminium flagpoles are a standard heavy-duty, heat treated 6063 aluminium, with either a self-colour, anodised or powder coated white finish. The superform pole is ideal for exposed locations such as castles, marinas and roof mountings on high rise buildings.
All aluminium flagpoles are both seamless and conically tapered, available in heights up to 25 metres, designed to be placed on any type of ground or wall bracketry, pre or post bonded. Roof brackets or a vertical and angled wall bracket can be designed to suit any requirement you have.
As standard, all Superform aluminium flagpoles are supplied with a hinged baseplate to facilitate with ease the raising and lowering of individual flagpoles, irrespective of length, along with a gold finial top and various roping systems to suit your preference.
The guard lock internal halyard system, which comes as standard, minimises the risk of flag theft on ground-mounted poles. Designed to enhance flag security, the halyard runs from a lockable access door up the inside of the pole and emerges below the finial for connecting to the flag.
Optional extras include lightning protection and a 14-gauge spun aluminium ground collars which provides an attractive finish to the flagpole concealing the foundation bolts and hinged base.
Harrison Flagpoles is Constructionline Gold accredited.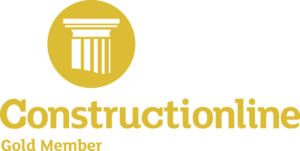 To discuss your requirements, please contact our specialist projects team.