Description
Manufactured from seamless high grade stainless steel and finished with a continual taper and a highly polished mirror, satin or painted finish, our stainless steel flagpoles are available in sizes from 2 metres up to 20 metres.
Harrison's has vast experience and knowledge in the provision of the very best flagpoles available. Architects from all over the world specify our flagpoles. We are proud to adorn a host of prestigious buildings and landmarks such as the Victoria Monument in London and O'Connell Street in Dublin. Click here to read the case studies.
In March 2020 Harrison Flagpoles was awarded Constructionline Gold accreditation.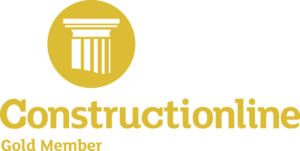 The steel
Our stainless steel flagpoles are designed to offer strength and rigidity in all climates, and can withstand windspeeds of 80mph. We always recommend 316 Grade stainless steel (more commonly known as Marine Grade). Its higher Nickel content and added Molybdenum gives the pole an increased corrosion resistance and minimises the risk of staining
Staining
One of the greatest misconceptions with stainless steel is that it will never stain or discolour. All stainless steel has a 'passive' surface, a protective layer of chromium oxide, which minimises corrosion, but this passive layer can be attacked by certain chemical particles such as salts or industrial pollutants. Experience has shown that whilst 304 Grade is adequate within inland sites where there is little to no atmospheric pollutants. Wind exposure, industrial pollution and high temperatures can create an environment whereby 304 Grade will tea stain even when 20km from the sea. We believe that the best way to minimise the risk of staining and to ensure you get the right stainless steel flagpole is to specify and insist on a 316 Grade flagpole.
Surface finish
You can choose from a satin, mirror or painted finish depending on your requirements and preference.
As a general rule the smoother the finish the better the corrosion resistance. As there are fewer deep surface grooves on the flagpoles for salts and other contaminants to collect.
Harrison's standard finish is our satin finish. A mechanically achieved polish and smoothest of the non-reflective finishes. This provides corrosion resistance for most external applications (Ra less than 0.5). Alternatively we can provide a brighter reflective 'mirror' polish (Ra less than 0.1)
Our flagpoles can also be painted to offer a coloured finish. This can be done for aesthetic reasons or to add a further protective barrier against corrosion.
Accessories and installation
All the stainless steel range comes complete with a stainless steel finial, rotating saddle and internal winch mechanism. This offers ease of operation and security. They can be installed using a hinged or fixed base plate with ground rods. Or if you'd prefer not to tackle the job yourself installation service is available.
Maintenance
We would always recommend a degree of cleaning to help keep the stainless steel surface in good condition. Rainwater will act as a natural cleaning but in hotter climates it may be necessary to use a mild detergent to remove any build up of dust and dirt to keep the flagpole looking its best.
Our team are on hand to talk you through all our options and help you decide which flagpole is right for you. Get in touch on 01325 390 195 or sales@weareharrisons.com