Commercial Glassfibre
£287.40 – £1,499.28
As the only UK manufacturer of glassfibre flagpoles we can supply the perfect flagpole for your business whatever your needs. Our experience and quality products mean our flagpoles are regarded by Architects and Engineers as the very best available in the UK.
Enquire Now
Details

A Commercial Glassfibre Flagpole is the perfect adornment to any business, hotel or public building. We are widely recognised as the UK's leading authority in the design and supply of flagpoles for all applications. With almost 50 years of manufacturing and installation experience were well equipped to meet your requirements.
About Harrison Flagpoles
Harrison Flagpoles are the only UK manufacturer of fibreglass flagpoles. Our Commercial Glassfibre Flagpoles range is our most prestigious. Manufactured at our Darlington based factory and available in a range of sizes, our glassfibre flagpoles are regarded by Architects and Engineers as the very best available in the UK.
Harrison Flagpoles is Constructionline Gold Accredited
.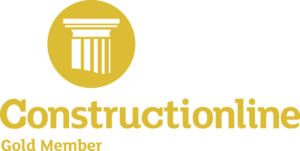 About our Commercial Glassfibre Flagpole range
Our commercial glassfibre flagpole range consists of white tapered poles. Each pole has a galvanised steel hinged base plate, gold finial top and a choice of wall thicknesses and roping systems to suit your needs. Every pole comes with a 5 year warranty. Our standard sizes are available to buy online but call us for poles of over 13 metres.
The commercial glassfibre flagpoles come in heavy duty thickness as standard with a wall thickness of 3mm. If you are based near the coast, we recommend our extra heavy duty pole which a wall thickness of 4mm. If your business is right on the coast we recommend the ultra heavy duty with a wall thickness of 5mm. This will withstand the elements more effectively. The hinged base plate allows the pole to be lowered by one person for easy maintenance and cleaning, to keep your flagpole looking its best.
You can also choose from a range of roping systems – a halyard. This rope and hardware allows the flag to travel up and down the flagpole.
The basic external halyard places the rope on the outside of the flag. It is exposed to the elements however raising and lowering the flag is achievable more quickly. The internal halyard system conceals the rope inside the flagpole itself behind a small lockable plastic or metal door. It gives a more streamlined appearance and is also an added security feature.
Opting for one of our swivel arms means that your flag follows the wind so your message can always be seen. The hoistable option is perfect for promoting special events and promotions – your flag can be changed without lowering the pole.
Technical Specification

Size:

5m, 6m, 7m, 8m, 9m, 10m, 11m, 12m
Roping:

External, Internal, Swivel Arm
Heavy Duty
Extra Heavy Duty
Ultra Heavy Duty
Type:

Glassfibre
Door:

Metal, None, Plastic
Swivel Arm:

Hoistable, None, Standard
Additional information
| | |
| --- | --- |
| Size | |
| Roping | |
| Thickness | |
| Type | |
| Door | |
| Swivel Arm | |